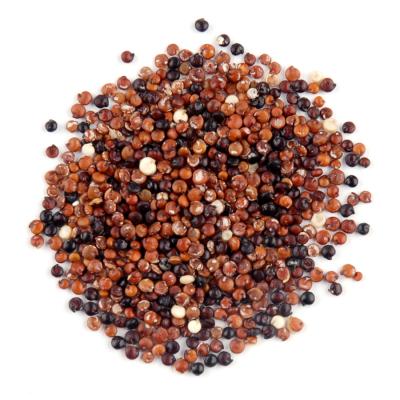 Having fallen in love with
quinoa
(
keen-wah
) for a few months now, I've just learned that it's actually a
seed
, not a grain! (shame on markets mislabeling this seed with "whole grain quinoa" labels) These super seeds come in
black
,
red
, and
white
. But are there differences between different color of quinoa?
Aside from offering lots of
fiber
and
protein
(see
Meatless Protein
), quinoa also contains
B vitamins
,
calcium
,
iron
, and
phosphorus
. There aren't significant differences between the colors so just choose the color that fancies you the next time you shop for this amazing
meatless protein
! Quinoa is also
gluten-free
by nature, making it a nutritious option for those who are gluten-intolerant or have Celiac's disease.
As far as taste goes, I prefer red and black quinoa over the white variety because they have a
nuttier flavor
. Texturally, the red and black seeds are
chewier
than their white counterpart. Quinoa can be served as a side dish, in salads, or even eaten as a breakfast cereal!
Thanks Alison W. for provoking my curiosity about different colored quinoa!

Fun fact: The word quinoa meaning "The Mother Grain" originated from Quechua, the language of the indigenous people of South America.

Photo credit: chieftainwildrice.com